The initial flurry of advice from Government to businesses suggested stockpiling after Brexit would be a 'good thing'. Now there's an edgy silence - suggesting there's even doubts over how pro-active supply chains ought to be.
UK manufacturers were stockpiling raw materials in the first quarter of 2019 at the highest rate since the early 1990s. Evidence from recent history suggests this is going to have long-term implications for supply chains and the UK economy as a whole.
In 1999, when the world was anticipating the impact of the Millennium bug, stockpiling was identified as more of a threat, not a sensible precaution. Businesses, generally-speaking, were looking at increasing stocks by 12.5%, just in case. We were brought in by the Department of Trade and Industry specifically to calm business nerves and try to dissuade organisations from stockpiling - it would do nothing but harm.
Dead money
Just small variations in demand from a customer result in large variations in demand being transmitted up and down the supply chain. A cycle of over ordering and stockpiling leads to demand distortion and any further over-ordering contributes to the amplification. Typically, a demand increase of 12.5% will be passed to a supplier as an increase of 26%, resulting in that supplier placing an increased order for their own supplier of 55% - meaning big oscillations in inventories and supplies that can occur for many years into the future. For the economy as a whole there's the danger of boom and bust cycles until the distortion of needs works its way out of the system. Meanwhile the increased costs put more strain onto the smaller firms - at a time when more businesses choose larger supplier partners.
Organisations face the sudden burden of 'dead money' clotting up operations. Finances invested in stock limited any ability to grow. Looking at the real accounts of organisations, the growth prospects of a retailer was reduced in this context by more than 1%, while the wholesaler and manufacturer were pushed back into a 'minus' growth situation. Wasteful investment increased the chance of business failures.
It's not that Brexit stockpiling is a mistake per se, just that we need to be careful. Retailers, wholesalers and chains of manufacturers need to be talking more often. They need to be honest about potential problems, do their best to dispel any lingering mistrust about capacity and supplies, talk openly about what necessary looks like and what might be an overreaction.
Is Brexit just the beginning?
Brexit is only one example of new threats and obstacle to supply chains, part of a wider trend towards more uncertainty, more tensions and a stiffening in the defence of national trading interests globally. There's the broken trade negotiations between US and China, and the way in which talking tough and introducing tit-for-tat measures is creeping into more international negotiations. Like Switzerland, which has suddenly had difficulties with movement of goods across the neighbouring French border because of its own re-negotiations with the European Union on trade. All these kinds of changes leave a bitter taste that can prompt retaliation and an escalation of measures.
So supply chain managers shouldn't be thinking they can get past the Brexit hurdle then it's back to normal. Whether it's because of climate change or unexpected political events, we need to be thinking in terms of building resilience into supply chains as standard. What's needed is what I see as the 'Temple of Supply Chain Resilience'.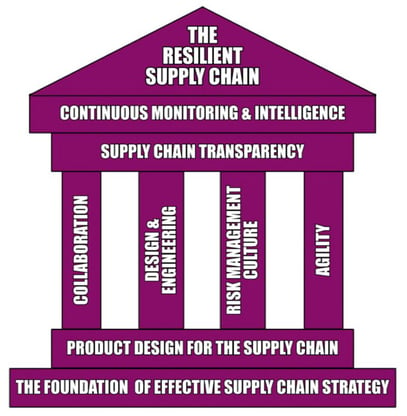 (Courtesy of Professor Richard Wilding, OBE)
The Temple foundation needs to be an effective supply chain strategy (as this impacts on the risk profile of the whole supply chain, defining the supply chain processes, infrastructure, information systems and supply chain organisation). The floor is product design, as risk to the supply chain is often embedded during the design stage for a product (eg what raw materials used and where these will be sourced from?). The four pillars are agility (to ensure flexibility within the supply chain operations); collaboration internally and externally (the more you collaborate the greater the resilience you can achieve); supply chain risk management culture (so when people make any decision they ask one simple question "How will this impact on the overall risk profile of my supply chain?"); and, supply chain design (the locations and network you use, and the equipment you use - so, a forklift truck on lease may seem a good idea, but where are the spares sourced from?).
The roof of the Temple is supply chain transparency (reassuring everyone involved that the supply chain is operating effectively via connected information systems and good communication); while the crown on top is continuous monitoring and intelligence: making sure your employees, suppliers and customers have ways of keeping you informed of issues so you can act quickly and always keep ahead, securing the resources you need to keep your supply chain operational, whatever the changing conditions form an unpredictable political environment might be.
Blog produced by: Richard Wilding OBE, Professor of Supply Chain Strategy and Programme Director of the Supply Chain Management Programme, Cranfield School of Management.
Read more: