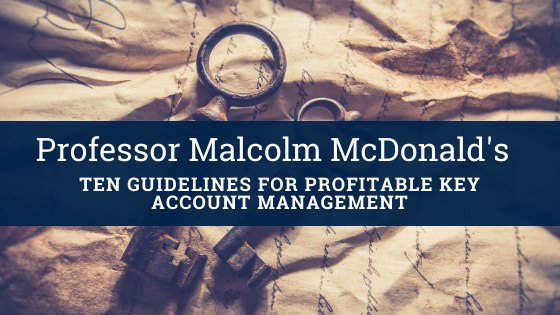 Key accounts are customers who help their suppliers grow, and consequently, they wield significant power. Although they are the key to market share and revenue growth, the costs of serving key accounts can erode profitability unless they are thoroughly understood and managed.
Whether your business is starting up or well-established, there is always more to discover about improving the way value is created between you and your most important customers. Cranfield School of Management's Professor Malcolm McDonald who has spent over twenty years researching, teaching and consulting on key account management, recognises, and highlights ten-steps organisations should follow for profitable key account management (KAM).
1. Understand that KAM is
NOT

Selling or Sales Force Management

A growing proportion of organisational revenue is coming from a few major customers, known in the business world as Key Accounts (KAs). These KAs MUST be treated differently and separated from your mainstream customer base and placed in a special programme. They cannot be managed by the traditional sales force. They need a totally different approach that looks after their needs and provides value for both organisations (you the supplier and the customer). Importantly, you MUST ensure the whole organisation understands KAM and the different approach it requires, as it is they who have to deliver KA value.
2. Select a limited number of KAs for the KAM Business (between 15 and 30)
It's important that you do not select too many, as the selected KAs require the major part of your resources to help deliver value that both organisations strive for (it is a bit like your own circle of friends. You can only have a limited number to whom you devote special attention). As part of the selection of KAs, include at least one or two with whom you would like to trade with in the future along with existing strategic customers, thinking about their future potential.
The criteria for selecting your KAs will usually include size of wallet and their profitability to you but could also include strategic criteria, such as their value as a reference account.
3. Categorise these KAs according to their potential for growth in your profits over the planning period
The criteria will include the KA potential wallet size over the planning period, the percentage (%) growth, multiplied by the potential return on sales (ROS) available to ANY competitor, not just to you.
Position each KA on the vertical axis of a 'thermometer' according to their potential from 'high' to 'low'. This axis can be labelled 'KA Attractiveness', but please note that those KAs near the bottom are not unattractive, just less attractive than the KAs above them.
4. Understand in depth the needs of the selected KAs
This is a major exercise and something that cannot be done quickly or casually if you want your key account management programme to be effective. You'll need to understand the following in depth:
The KA's value chain from end to end
Your strengths and weaknesses compared to your competitors
Their key financial ratios
Their competitive position
Their buying processes
It's important to understand your KAs better and in more depth than you understand your own organisation.
5. Categorise the KAs according to your relative strengths in each KA compared with your major competitors
At this stage in your key account management programme, we suggest you use the format below. Use the information gathered in step 4.
Naturally, you'll have more relative strengths for the different KAs than others, which isn't a problem. If you place them on the horizontal line on the 'thermometer' with the highest strength on the left and your lowest strength on the right.
Key Account Description - It should be a specific part of the business and should be very important to your company
Critical Success Factors (CSFs) - How does this customer select its supplier?
Weighting - How important is each CSFs? (Score out of 100)
Strengths / Weaknesses Analysis - How would your customers score you and each of your main competitors our of 10 per CSFs?
Opportunities / Threats - Things outside your direct control that have had, and will have, an impact on this part of your business?
Customer - In what specific ways can your company help the customer to deal with the key issues it faces?
6. ...
Download all ten tips, which we hope you find useful.
Read more: