Building on our recent blog on 'Designing a customer-centric culture that empowers'. It is worth exploring a checklist for implementing a customer-centric culture. Culture is all around us, influencing our ideas, customs and social behaviour, and culture exists within an organisation whether we are conscious of it or not. Despite its importance, managers rarely address the elements of organisational culture, or reflect on how culture can be designed to enable a system that creates superior value for their customers.
Brand purpose: Linking customer-led culture to experience
A brand purpose is the essential link between external customer experience and the internal customer-led culture. A purpose statement should be a succinct articulation of what value we actually create for customers.
It should not be a fluffy statement that is divorced from customer needs or the reality of what we can deliver, an exercise that all too often done incorrectly. Rather, a well-designed brand purpose should summarise the customer's 'job to be done'. This is shorthand for what an individual, or a collective such a business customer or a family, is really seeking to accomplish.
The essential HR effort
To achieve a customer-led culture, it is crucial to use each HR mechanism to reinforce it.
All too often, HR practice focuses only on hygiene factors: decent working conditions, humane management practices, fair pay and conditions, and so on. These are indeed essential to ensure that employees are happy – and undeniably, unhappy employees create unhappy customers, so this work is vital. However, in addition, all HR practices need to reinforce the brand purpose and standards if a customer-led culture is to result.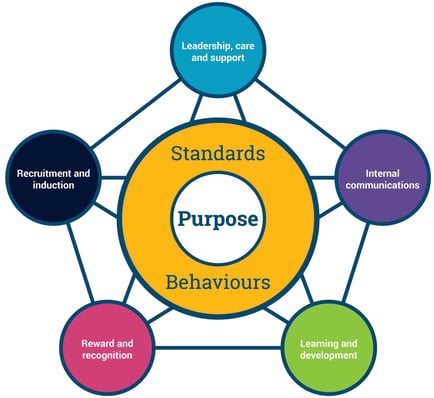 A purpose-led framework for managing people and culture
The outer circles within this framework summarise the aspects of HR that must be intentionally designed to reinforce the brand purpose and standards. Firstly, recruitment must ensure that applicants whose personality naturally fits these standards are excited, and that those with the wrong fit have an early opportunity to opt out themselves.
Secondly, the brand purpose and standards need to be internalised in both initial induction and all subsequent learning and development activities.
Thirdly, internal communication needs to reinforce the brand purpose and standards. All too often, communication focuses only on financial results, rather than framing these results as the product of how well we create value for customers.
Fourthly, continuing staff reward and recognition forms another powerful lever that can emphasise the customer-led message.
Implementing Customer-Centricity
Working through the 'purpose-led framework for managing people and culture', this checklist is a must when implementing customer centricity within your organisation.
Checklist for implementation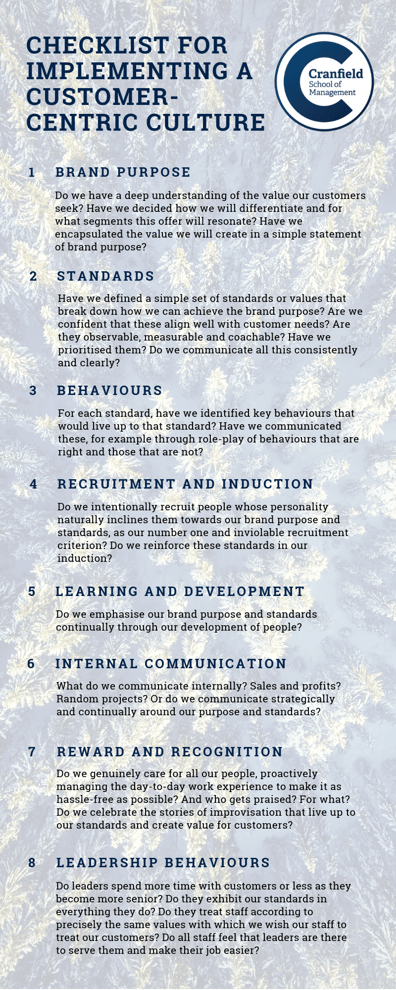 Through our Customer Experience Strategy programme and on-going dialogue with members of the Cranfield Customer Management Forum, as well as through our research with companies undergoing transformations, we've developed a range of tools to help organisations and leaders make this transition.
Find out more information about Cranfield Customer Management Forum, our work, developed tools and how we are refining the current understanding of elements of organisational culture and how this supports organisational customer centricity.
Blog produced by: Cranfield School of Management, Cranfield Customer Management Forum and Customer Experience Strategy Programme.
Read more: