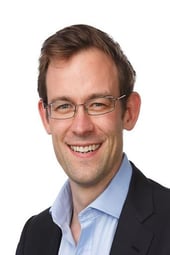 Hugh Lloyd-Jukes was a Guest Tutor on the April/October 2014 PTFL. Hugh is CEO of Oxehealth, a leading UK digital health business, and a serial entrepreneur.
Before you read any further, google "personal transformation".
If you have an extra minute, try "transformational change" and "transformational leadership".
"Transformation" has too often been hijacked by self-help gurus and business consultants to hype up their services. The classic formulas include: "my personal transformation from alcoholic to inspirational speaker/top franchise seller of X/Y/Z in the Midwest…" or "Industry shift? Merger? Cost reduction programmes?
We help clients implement transformational change programmes that take the business from good to great."
As an analytically trained strategy consultant, I spent years disappointed by development programmes: I'd had my fill of groups offering stilted interventions using grossly simplified models and clunky honesty exercises. Research clearly shows that management quality and authentic leadership are powerful superchargers for a business but it seemed that developing them usually required an idiosyncratic, and often serendipitous, approach: there didn't seem to be a reliable, universal method that would deliver great results on a repeatable basis.
"...The Personal Transformation for Leaders Programme has been running for 34 years
..."
I recommend you suspend judgment for five minutes because there is an institution hidden within Cranfield School of Management's Praxis Centre whose track record has forced me to reconsider. The Personal Transformation for Leaders
Programme has been running continuously for 34 years. Continuous records exist for the last 20 years in which 1,158 senior leaders from 40 countries have graduated from the programme.
...''very serious global brands including
PricewaterhouseCoopers, BBC and Nissan have
sent multiple senior executives and directors
on it...''
The attendance track record and consistent feedback suggest that Programme Director Dr Ido van der Heijden has developed a repeatable, reproducible process that helps almost any individual achieve a significant and sustained shift in personal performance.
Find out how we could help you transform your leadership capabilities?