In a combined celebration of University Mental Health Day and this year's World Book Day, we have put together a list of recommended books for leaders and professionals looking to learn more about how to manage and improve mental health at work. After almost a year since the first UK lockdown, with many of us adapting to a work-from-home pattern amid the stresses of home-schooling, caring for others and dealing with difficult situations, our mental health has really been put to the test.
---
Combining cutting-edge neuroscience with the latest discoveries on the human microbiome, a practical guide in the tradition of Wheat Belly and Grain Brain that conclusively demonstrates the inextricable, biological link between mind and body.

We have all experienced the connection between our mind and our gut—the decision we made because it "felt right"; the butterflies in our stomach before a big meeting; the anxious stomach rumbling when we're stressed out. While the dialogue between the gut and the brain has been recognized by ancient healing traditions, including Ayurvedic and Chinese medicine, Western medicine has failed to appreciate the complexity of how the brain, gut, and more recently, the microbiome—the microorganisms that live inside us—communicate with one another. In The Mind-Gut Connection, Dr. Emeran Mayer, executive director of the UCLA Center for Neurobiology of Stress, offers a revolutionary look at this developing science, teaching us how to harness the power of the mind-gut connection to take charge of our health.
The Leader's Guide to Mindfulness is a highly practical guide to help you focus your attention on the present so you and your organisation can perform more effectively. With emphasis on the "why" and the "how" of mindfulness, you'll discover how to reap the performance benefits and learn how to use mindfulness to become an emotionally agile leader.
Through a combination of ground rules, practical exercises, case studies and no-nonsense advice, you'll discover how mindfulness can help you and your organisation to:
Improve wellbeing and resilience
Improve relationships
Improve collaboration
Improve creativity and innovation
Improve decision making and problem-solving.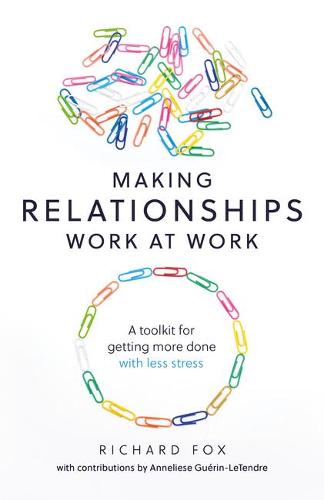 Nowadays, work is all about relationships

Getting things done depends on getting along. And when relationships are difficult, it's not just our work that suffers: it's often our health and wellbeing too.

Making Relationships Work at Work is the first book to cover comprehensively all the main components of building and maintaining great relationships at work.

Based on 50 years' experience of working with a wide variety of organisations, teams and individuals and packed with practical strategies, tips and tools for making work relationships work better, it will not only help you to become more effective with less stress, but also to enjoy your working life more.
Life is a Four-Letter Word is a mental health survival guide for professionals, from a high-flying Big 4 accountant who's struggled with depression, anxiety, stress and suicidal thoughts and learned a lot along the way.

Andy now advocates positive action around mental health, working closely with business leaders across the UK to help them build mentally healthy cultures. He is a renowned speaker and writer on mental health, entrepreneurship and finance.
For former pharmaceutical scientist Dr David Hamilton, the testing of new drugs highlighted how profoundly the mind and body are connected. Time and time again, the control group of patients in drug trials improved at similar rates to those who actually received the medicines. Astounded, Dr Hamilton decided to change the direction of his work to explore the relationship between the mind and the body.
This bestselling acclaimed book was first published 10 years ago. In it, Dr Hamilton explores the effect of visualization, belief and positive thinking on the body, and shows how using our imagination and mental processes can stimulate our own defences and healing systems to combat disease, pain and illness.
* Book synopses adopted from book sellers' descriptions