#ChooseToChallenge is the theme for this year's International Women's Day. We spoke to several participants of the Business Growth Programme (BGP) to find out about the challenges they face and how the programme transformed their business. We're proud to be sharing their stories in this inspirational e-book.
---
What does choosing to challenge mean to us? Well, it's about challenging ourselves as executive education providers to deliver high quality programmes that match and keep pace with the needs and expectations of industry. It's about the people who come on our programmes challenging themselves and their business to deliver the change they need to see.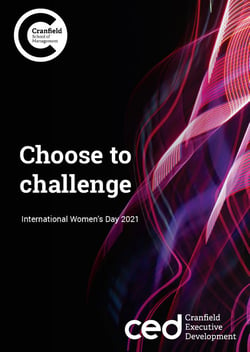 We also seek to challenge expectations and perceptions, particularly around gender bias. Over the years, we have had the privilege of working with some fantastic female entrepreneurs, and we are pleased that the number of women business leaders completing our Business Growth Programme (BGP) has risen steadily and is now three-times higher than it was four years ago. Of our most recent cohort – the first to complete the programme online – female entrepreneurs made up a third of the participants.

Another challenge for us is to grow those numbers even further. Businesses led by female entrepreneurs contribute more than £105 billion to the UK economy each year, and yet evidence shows that women in business consistently face challenges specific to their gender in making their business a success.

The 2019 Government-commissioned Rose Review of Female Entrepreneurship has estimated that up to £250 billion could be added to the UK economy if women were able to start and scale new businesses at the same rate as their male counterparts.

At Cranfield Executive Development, we believe this is more than possible – it is an ambition we absolutely must strive to achieve. For this special publication, we spoke to past BGP participants about the challenges they have faced in their careers, how they have overcome them, and why it's important to face challenges head on. We hope you find hope and inspiration in their stories.
---
About the contributors
Liz Male, Director at Liz Male Consulting, a specialist PR and communications consultancy working in the construction, property and built environment sectors - BGP (online), 2020.
Caroline Southgate, Managing Director at Doris Jones, an Essex-based care services provider - BGP, 2019.
Geeta Sidhu-Robb, Chief Executive Officer and Founder, at women's health and wellbeing service NOSH Detox Delivery Ltd - BGP, 2013.
Cheryl Thallon, Founder and Managing Director at Viridian Nutrition, an ethical vitamin, mineral and supplement business Viridian Nutrition - BGP (online), 2020.
Annika Bosanquet, Co-Founder and Director of Sustainability, at packaging manufacturer Wrapology - BGP, 2018.
Kate Lester, Founder at Diamond Logistics, which provides delivery and storage solutions to SMEs - BGP, 2018.