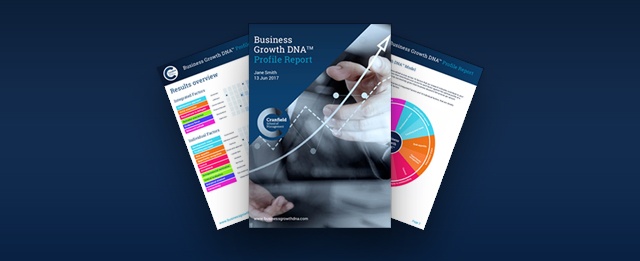 What could you achieve in 20 minutes? Catch-up on emails, make that call you keep putting off, take a quick look at the figures and see if you're on track? OR, create a 14-page business growth plan that will benchmark you against some of the UK's most successful entrepreneurs?
A no-brainer, right? And it sounds a little unachievable, but thankfully, that's not the case, there's now a tool that will help you achieve exactly that. Launched by Cranfield School of Management, the Business Growth DNA™ is a completely free, online assessment tool, which identifies and benchmarks the key areas of development that will allow business owners to accelerate business growth.
Developed using almost 30 years of experience and insights from the Business Growth Programme, the longest running and the most successful programme of its kind. Over 2,000 entrepreneurs have passed through the programme, including some well-known consumer brands, Hotel Chocolat, Go Ape and Cobra Beer to name a few.
Business Growth DNA™ is an assessment based on research into the traits of successful UK entrepreneurs. The research project identified 16 critical personal factors contributing to growth for owner-managers of businesses with a turnover of between £0.5m and £20m.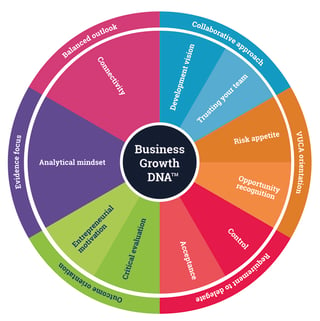 The 16 critical growth factors for business owner-managers.
The 16 critical growth factors are wrapped up into 6 core factors and include:
Collaborative Approach - Explores your approach to team development
VUCA Orientation - Assesses your response to business risks and opportunities
Requirement to Delegate - Measures your attitude to devolving responsibility to others
Outcome Orientation - Explores your motivations and goal setting strategy
Evidence Focus - Assesses your approach to evaluating opportunities and solving problems
Balanced Outlook - Measures your focus on skills deployment and connectivity.
The best part about the tool is the customised report that it produces for you once the assessment is completed. The 14-page report provides a breakdown of your score for each of the critical growth factors and allows you to benchmark that score against the optimal profile of a successful UK owner-manager.
The assessment and report are currently available for free at businessgrowthdna.com.