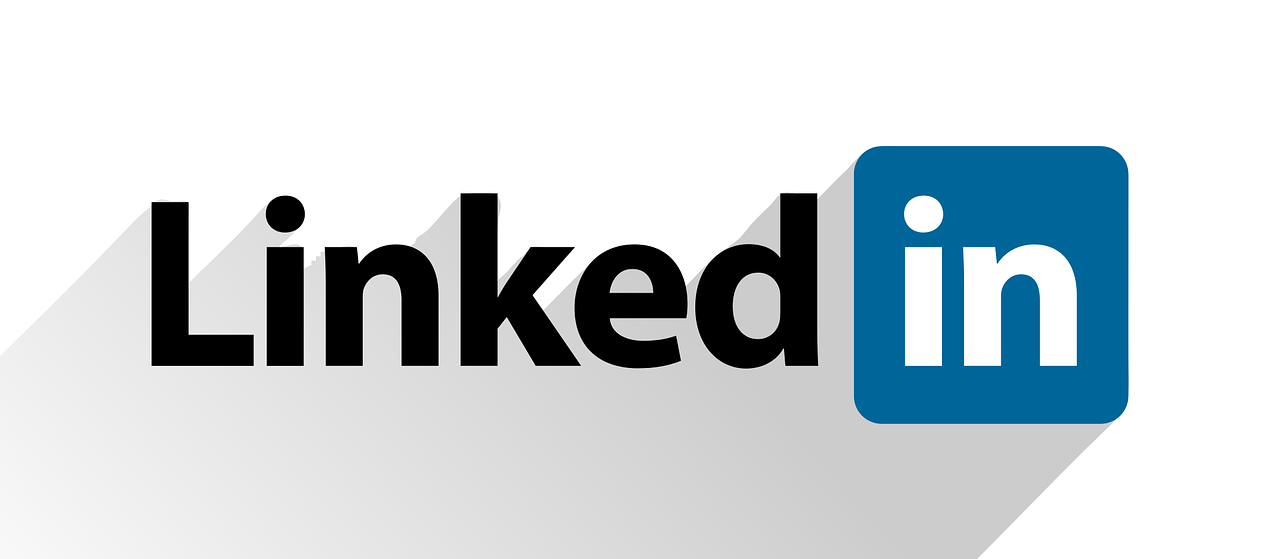 1000% sounds like a lot, and to be honest I wouldn't want to prove it, but there is research out there to suggest it's true and considering it will only take you two minutes to implement, it's got to be worth a try.
We're talking about adding your education to your profile, already a fairly simple task, but the introduction of the 'Add to Profile' button has made it even easier. Plus, what better way to show your connections that you are serious about career and business development, than showing that you are investing in education? For the delegates that have completed our Business Growth Programme (BGP), adding BGP to your profile sends out a clear message to your network, 'business is good and we're investing to make it even better!'.
Some of you may already be aware of the LinkedIn 'Add to profile' tool, however, for those of you that are not, let this be a 3-minute guide. A couple of years back, LinkedIn piloted an 'Add to Profile' programme that made it easier to add certificates to users profiles; the results saw Microsoft's certifications on Linkedin nearly double and Coursera certificates increased 133x!
Couple the success of the certificate pilot, with the LinkedIn research which suggested 'people who keep their education section updated on their profiles an average of 10x (1000%) more profile views than those who don't', it makes complete sense that LinkedIn developed the 'Add to Profile' tool for education.
For the user, the Add to Profile button is simply just an easier way to add education and certificates to your profile and it's down to the provider to make sure that you see that button in the most convenient places so that it gets used. If done correctly, it can boost the user's profile and give great coverage for the provider.
So let us take this opportunity to demonstrate the tool using the Business Growth Programme (BGP) as an example.
First off, this is the button, get clicking:
and here's what to do once you have clicked it:
(If you're not logged in already, then you'll need to do that)

You will be presented with a pop-up box, inviting you to 'Add education':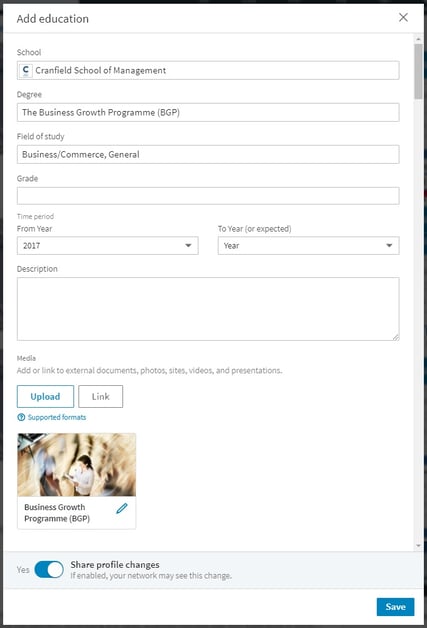 Fill in the pop-up using the following (feel free to copy and paste!):

School = 'Cranfield School of Management'

Degree = 'The Business Growth Programme (BGP)'

Field of study = 'Business/Commerce, General'

Grade = leave blank

From Year = add the year you completed BGP

To Year = leave blank

Description = leave blank or add in course description - 'A programme designed specifically for owner-managers and business decision makers. Take your business to the next level, achieving your business and personal ambitions.'

Media = click on 'Link' and add the BGP website link - 'www.cranfield.ac.uk/som/bgp'

To get the most out of you new profile addition, before clicking 'save', make sure the little slider for 'Share profile changes' is set to 'Yes'.
Now, click 'Save' and it's done.
This process should take no longer than 3 minutes and once completed you can look forward to 10x the amount of profile views! (apparently).